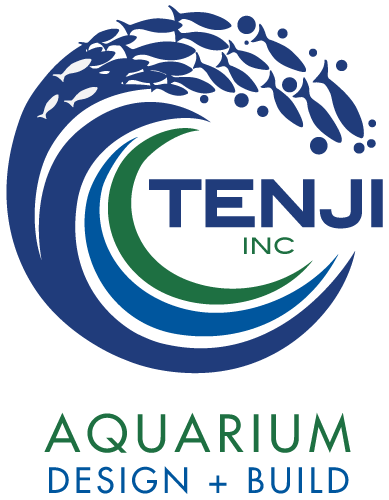 Tenji Aquarium Design + Build was started in 2001 by a group of former Monterey Bay Aquarium employees. These curators, biologists, and exhibit designers knew that their roots in animal husbandry would help them understand the nuances involved in creating successful life support systems and exhibits. The Tenji team has brought their decades of hands-on experience in the public aquarium industry to the design and build of numerous aquatic exhibits, as well as quarantine and holding facilities for notable institutions, such as the Mystic Aquarium, the Georgia Aquarium, and the Monterey Bay Aquarium.
Tenji approaches every project with a value engineering mindset and a thorough understanding of LSS design, functionality, and long-term reliability. Tenji has been involved with several LEED-certified projects over the years, and always considers a variety of approaches in order to create the smallest environmental footprint possible. In order to minimize the duration of our time onsite and provide cost savings, the Tenji team fabricators pre-build as many of the LSS components as possible.
Tenji developed their proprietary Rapid Design Process (RDP) to pull out the best ideas and put them on paper, fast. Their aquatic design service group creates 2D and 3D models to help clients see and understand how their custom home aquarium, public aquarium, laboratory, or touch tank will look and function. With offices in Carmel, CA and Newcastle, ME, the Tenji team enjoys working with clients across North America. Recent projects include the Bailey-Matthews National Shell Museum (a full redesign of their ground floor, with eleven new tanks and significant back-of-house space), the Turtle Back Zoo (including exhibits for sea turtles, penguins, flamingos, leopards, and river otters), and the Mote Science Education Aquarium (a massive renovation, doubling the size of the existing aquarium, including classrooms and laboratory spaces).
Services:
Aquarium tank design, LSS planning, in-tank theming, and dry exhibit design using our RDP
Tank vessel design, including procurement, rigging, and installation
Graphic design of the visitor experience, interactive exhibit design, and front-of-house graphics
3D modeling, both digital (CAD/Revit/SketchUp/BIM) and physical fabrication of aquarium architectural designs
Offsite prefabrication of all LSS components, including FRP tanks, stands, and platforms
Complete turnkey aquarium design, as well as repair and renovation of existing systems
Animal care and exhibit maintenance, including collection planning, selection, and delivery
Species-specific LSS and control design
General flow diagrams and types of LSS equipment required, including all heating and chilling requirements
LEED AP team review
Construction management and consulting, including drawing and construction documentation as well as plumbing supervision and testing
In-house monitoring and controls experts as well as plastics, metals, and fiberglass fabricators
Onsite training upon completion of installation (including SOPs and manual provided)
Project coordination from beginning to end, no matter the size or scope
Contact info:
Tenji Aquarium Design + Build
Phone: 831-401-9551
Email: info@tenji.com
Website: www.tenji.com