FRESHWATER PROTEIN FRACTIONATORS
Is Foam Fractionation Effective in Freshwater Application? The answer is a resounding yes!!

RK75PE
Freshwater Fractionation has all of the same added benefits you'd see in a saltwater application. It removes suspended particulates, dissolved organics, proteins, and tints while also increasing dissolved oxygen levels. If you plan on using ozone within your application our Freshwater Fractionators double their role to act as an ozone contact chamber, reducing the amount of equipment and floor space required to carry out the process.
We have spent years refining our protein fractionator designs to be used in freshwater applications. Our Freshwater Fractionators have all of the same great standard features as our saltwater foam fractionators. What makes our Freshwater models different is the attention to details and understanding of the fractionation process. Freshwater is far less dense the saltwater, therefore the bubbles created rise to the surface much quicker when compared to bubbles being created via the same process in saltwater. These bubbles also expand in size faster as they are rising to the foam column, making it difficult to produce a stable foam column. To account for these differences in the freshwater process, we alter two key areas within our design.
First, we utilize larger venturi pumps when compared to the saltwater counterpart to operate our air injection manifolds. By doing so, it allows for more bubbles to rise up into to the foam column.
The second and more important component within our design is the foam riser cone. Instead of using one large 6 or 8" diameter cone, we utilize a series of smaller risers to create the same diameter for our foam to be exported from the system. By doing so, we prevent the foam from expanding too quickly, bursting and collapsing on itself. Although it is not required, it is recommended to use ozone to help increase the efficiency of the foam fractionation process in freshwater.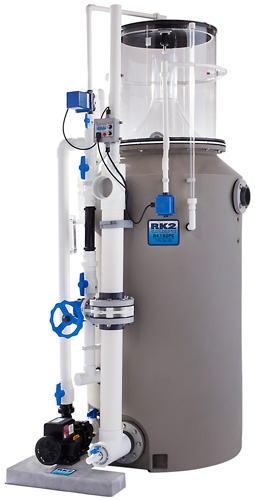 RK150PE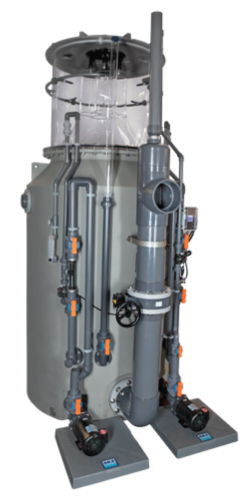 RK600PE
Freshwater Fractionators in Action
All RK2 Fractionators Features:
**LARGER VENTURI MANIFOLD PUMPS** - Allows for more air injection into the fractionator body to help increase air to water interface in freshwater applications.
**SPECIAL FRESHWATER STYLE FOAM RISER CONE** - We use several significantly smaller cones inside the same footprint as a single 6" or 8" cone. This helps the foam from expanding and collapsing on itself as it makes its way into the waste collection cup.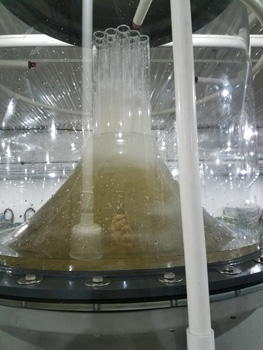 MOLDED HDPE REACTION CHAMBERS - RK25 models and up - unlike competing manufacturers our bodies are a one piece, rotationally molded design. This eliminates potential leaking and failtures from seams and weld points. Using HDPE makes our bodies rugged and ozone safe. They are also UV resistant making them safe for indoor or outdoor applications.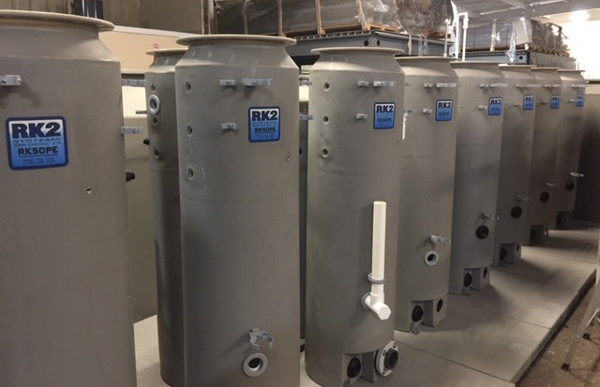 COUNTER CURRENT DESIGN - Allows for water entering the top of the fractionator to pass down through the rising air/water column. This creates a stripping effect and allows for better overall mass mixing. Competing manufactures have their supply, injection, and discharge ports all located in the same area making for a far less efficient fractionation process.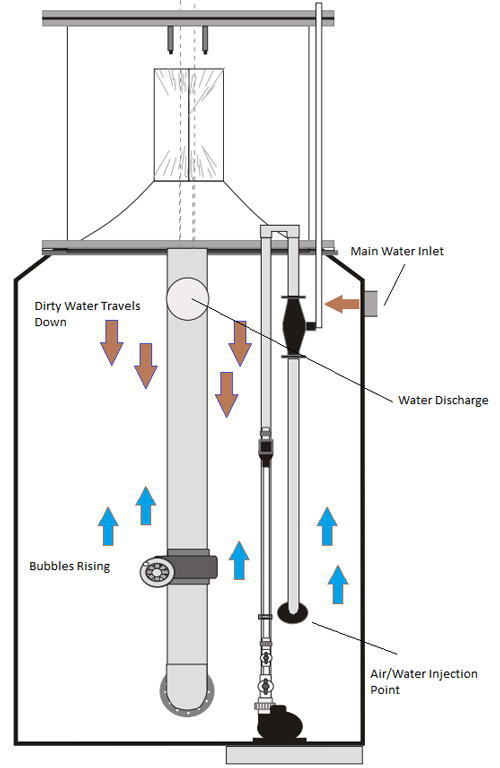 AUTOMATED WASH DOWN SYSTEM - Electronically controlled washdown system featuring touch screen HMI controls allowing for a simple programming of rinse cycles. The internal rinse uses system water directly from the injector pump. The external cone rinse uses a separate freshwater supply line to wash the outside of the cone. Unlike competing models that spray valuable system water down the drain every time the washdown is activated.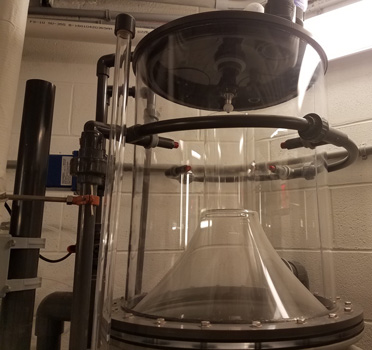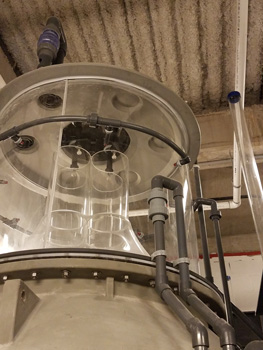 **NEW** AUTOMATED VENTURI CLEANING - Industry First! We've added a solenoid valve to the venturi manifold that allows for automated cleaning of the venturi injector. This valve can be programmed to open once an hour or up to once every 24 hours. It only takes a few seconds of freshwater rinse to clean the venturi. Maintaining your RK2 fractionator has never been easier!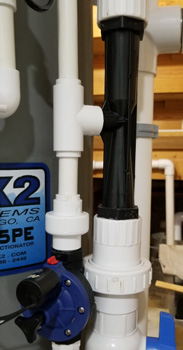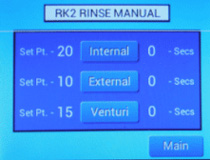 TUNED VENTURI PUMPS - We've worked with our motor supplier to select the most efficient pumps possible to pair with our venturi injectors. Unlike other manufacturer's we've matched each pump to the injector(s) of each specific fracitionator model. Blanket sizing of a fractionators pumps will lead to inefficient pump operation and possible pump failure from overworking. All pumps are standard 115/230V 60HZ Single Phase. Optional power configurations in 115-575VAC, 50/60Hz, amd 3 PH are all available upon request.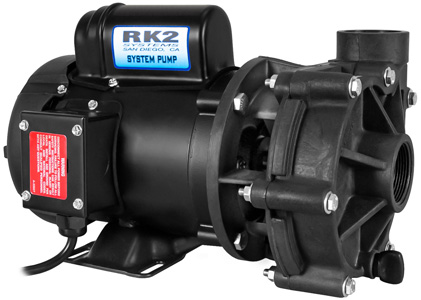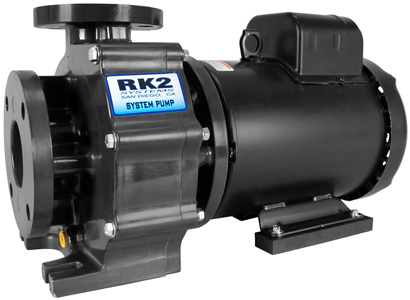 KYNAR VENTURI INJECTORS - Our fractionators come standard with kynar venturi injectors from Mazzei, the best venturi available. Using Kynar allows for ozone gas injection into the fractionator via the venturi. This eliminates the need for a separate port and/or pump to carry out ozone injection.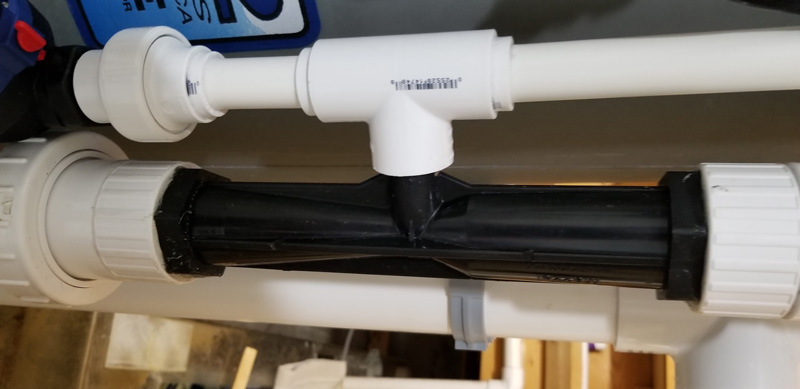 OZONE GAS CONNECTION PORT - We supply a separate ozone connection port as a standard feature. This fitting is normally capped of when not using ozone gas. When using ozone injection it is important to be able to precisely control the amount of gas being injected. When combined with our airflow meters (see next feature below) this allows you to precisely control airflow of ozone gas and the correct amount of normal air needed for the fractionator.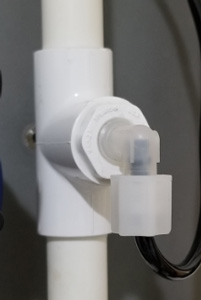 AIR FLOW METERS - Air Flow meters are provided as standard equipment. We supply one meter per venturi. This allows for proper adjustments when dialing in the fractionator. The addition of the air flow meters also allows you to monitor the airflow into the venturi for maintenance purposes. A drop in air flow could indicate the venturi needs cleaning or there is an obstruction in the venturi manifold loop. The air flow meter also allow for proper adjustment to overall air injection when adding ozone injection.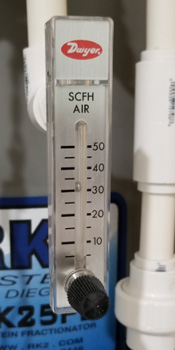 MOLDED HDPE SCREW TOP LID - Makes maintenance and accessing the inside of the collection cup simple.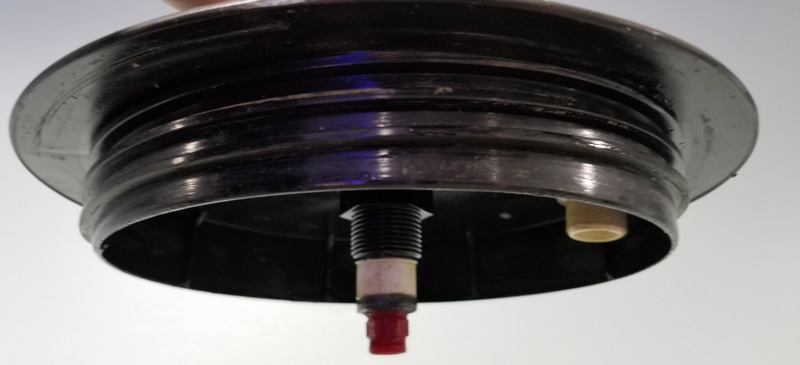 CLEAR SIGHT GAUGE - Lets you see water level inside reaction chamber and allows for precise water level adjustments.

SPEARS BALL VALVES - We use spears ball valves as standard. All models are upgradeable to Asahi or Hayward True Union Ball valves depending on your preference. (See upgrades and customizing section below).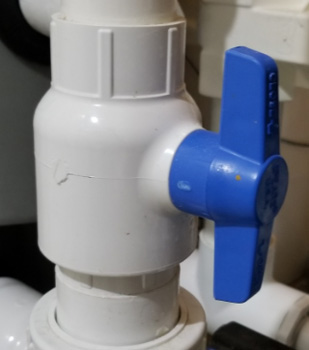 Upgraded and Custom Options Available
RK2 has been providing customized and upgraded options to our fractionators for years. We've had some unique requests over the past 25+ years but we've been able to meet them all. Is a model too tall for your desired location? Do you need different inlet/outlet sizes than what's standard? Have a preference to using true union ball valves?Not to worry, RK2 Systems has you covered with a wide range of available upgrades Call us today to discuss your requirements as we are willing and able to assist you with any custom configuration required.
Here's a few examples of what we can do for you: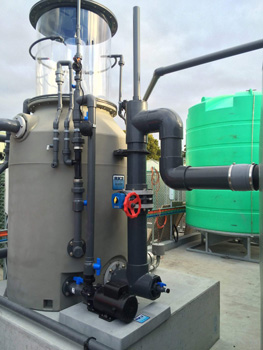 Schedule 80 Plumbing (Upgrade)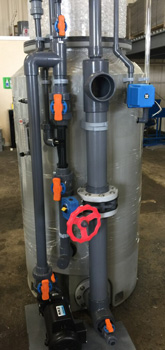 True Union Ball Valves, Asahi or Hayward (Upgrade)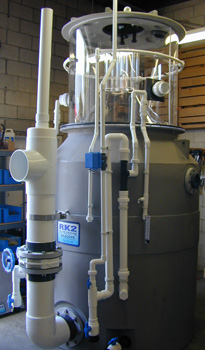 Custom Heights
Specification Sheet (Standard)
RK2 SYSTEMS MODEL
WATER FLOW RATE
@2 MIN. CONTACT TIME
WATER FLOW RATE
@1.5 MIN. CONTACT TIME
WATER FLOW RATE
@1 MIN. CONTACT TIME
REACTION CHAMBER DIAMETER
RK2 PUMP SIZE
FRACTIONATOR HEIGHT
DIMENSIONAL FOOTPRINT
DRY WEIGHT
OPERATIONAL WEIGHT
RK25PE-FW
30 GPM
45 GPM
14"
1/4 HP PUMP
115/230 VAC 60HZ 1 PH
77"
24" X 42"
102 LBS
440 LBS
RK50PE-FW
45 GPM
70 GPM
20"
1 HP PUMP
115/230VAC 60HZ 1 PH
99"
32" X 44"
220 LBS
1,050 LBS
RK75PE-FW
65 GPM
100 GPM
24"
1.5 HP PUMP
115/230 VAC 60HZ 1 PH
102"
32" X 44"
235 LBS
1,400 LBS
RK75PE-HF-FW
100 GPM*
130 GPM*
24"
1.5 HP PUMP
115/230 VAC 60HZ 1 PH
102"
32" X 44"
240 LBS
1,400 LBS
RK150PE-FW
155 GPM
235 GPM
36"
1.5 HP PUMP
115/230 VAC 60HZ 1 PH
101"
41" x 54"
365 LBS
2,980 LBS
RK150PE-HF-FW
235 GPM*
310 GPM*
36"
2 HP PUMP
115/230 VAC 60HZ 1 PH
101"
41" x 54"
375 LBS
2,980 LBS
RK300PE-FW
275 GPM
415 GPM
48"
3 HP PUMP
230 VAC 60HZ 1 PH
110"
48" x 66"
440 LBS
5,080 LBS
RK300PE-HF-FW
415 GPM*
550 GPM*
48"
3 HP PUMP
230 VAC 60HZ, 1 PH
110"
48" x 66"
455 LBS
5,080 LBS
RK600PE-FW
585 GPM
875 GPM
60"
3 HP 3X2-6 PUMP
230 VAC 60HZ 3 PH
144"
69" x 78"
750 LBS
10,685 LBS
RK600PE-HF-FW
875 GPM*
1170 GPM*
60"
3 HP 3X2-6 PUMP
230 VAC 60HZ 3 PH
144"
69" x 78"
1000 LBS
10785 LBS
RK1000PE-FW
1150 GPM
1725 GPM
84"
(2) 3 HP 3X2-6 PUMPS
230 VAC 60HZ 13PH
144"
92" x 114"
900 LBS
20,375LBS
RK2000PE-FW
1535 GPM
2300 GPM
84"
(2) 3 HP 3X2-6 PUMPS
230 VAC 60 HZ 3 PH
168"
92" x 114"
1200 LBS
25,540 LBS
PRO SERIES MODELS AVAILABLE AND INCLUDE THE FOLLOWING - SCHEDULE 80 PVC PLUMBING, TRUE UNION BALL VALVES AT ALL POSITIONS, ELECTRONIC WASH DOWN ASSEMBLES FOR INTERNAL AND EXTERNAL RINSE SYSTEMS, OZONE DESTRUCT AIR INLET VENT AND BULKHEAD FITTINGS IN PLACE OF FLEXIBLE TANK ADAPTERS
* HF MODEL FLOW RATES REFLECT 1.5 - 1 MINUTE CONTACT TIMES
RK2 SYSTEMS MODEL
WATER FLOW RATE
@2 MIN. CONTACT TIME
WATER FLOW RATE
@1.5 MIN. CONTACT TIME
WATER FLOW RATE
@1 MIN. CONTACT TIME
REACTION CHAMBER DIAMETER
RK2 PUMP SIZE
FRACTIONATOR HEIGHT
DIMENSIONAL FOOTPRINT
OPERATIONAL WEIGHT
DRY WEIGHT
RK25PE-FW
113 LPM
170 LPM
35.56 CM
1/2 HP PUMP
230 VAC 50HZ 1 PH
195.6 CM
61.0 X 106.7 CM
199.58 KG
46.26 KG
RK50PE-FW
170 LPM
255 LPM
50.8 CM
1 HP PUMP
230VAC 50HZ 1 PH
251.5 CM
81.3 X 111.8 CM
476.27 KG
99.79 KG
RK75PE-FW
246 LPM
369 LPM
60.96 CM
1.5 HP PUMP
230 VAC 50HZ 1 PH
259.1 CM
81.3 X 111.8 CM
635.02 KG
106.59 KG
RK75PE-HF-FW
369 LPM*
492 LPM*
60.96 CM
1.5 HP PUMP
230 VAC 50HZ 1 PH
259.1 CM
81.3 X 111.8 CM
635.02 KG
108.86 KG
RK150PE-FW
586 LPM
879 LPM
91.44 CM
1.5 HP PUMP
230 VAC 50HZ 1 PH
256.5 CM
104.2 X 137.2 CM
1351.70 KG
165.56 KG
RK150PE-HF-FW
879 LPM*
1172 LPM*
91.44 CM
1.5 HP PUMP
230 VAC 50HZ 1 PH
256.5 CM
104.2 X 137.2 CM
1351.70 KG
170.09 KG
RK300PE-FW
1040 LPM
1560 LPM
121.92 CM
2 HP PUMP
230 VAC 50HZ 1 PH
279.4 CM
121.9 X 167.6 CM
2304.24 KG
199.58 KG
RK300PE-HF-FW
1560 LPM*
2080 LPM*
121.92 CM
2 HP PUMP
230 VAC 50HZ 1 PH
279.4 CM
121.9 X 167.6 CM
2304.24 KG
206.38 KG
RK600PE-FW
2214 LPM
3321 LPM
152.4 CM
(2) 2 HP PUMPS
230 VAC 50HZ 1 PH
365.8 CM
175.3 X 198.1 CM
4846.63 KG
340.19 KG
RK600PE-HF-FW
3321 LPM*
11,620 LPM*
152.4 CM
(2) 2 HP PUMPS
230 VAC 50HZ 1 PH
365.8 CM
175.3 X 198.1 CM
4891.99 KG
408.23 KG
RK1000PE-FW
4353 LPM
6530 LPM
213.96 CM
(4) 2 HP PUMPS
230 VAC 50HZ 1 PH
365.8 CM
233.7 X 289.6 CM
9241.94 KG
453.59 KG
RK2000PE-FW
5810 LPM
8715 LPM
213.96 CM
(4) 2 HP PUMPS
230 VAC 50HZ 1 PH
426.7 CM
233.7 X 289.6 CM
11,584.74 KG
544.31 KG
PRO SERIES MODELS AVAILABLE AND INCLUDE THE FOLLOWING - SCHEDULE 80 PVC PLUMBING, TRUE UNION BALL VALVES AT ALL POSITIONS, ELECTRONIC WASH DOWN ASSEMBLES FOR INTERNAL AND EXTERNAL RINSE SYSTEMS, OZONE DESTRUCT AIR INLET VENT AND BULKHEAD FITTINGS IN PLACE OF FLEXIBLE TANK ADAPTERS
* HF MODEL FLOW RATES REFLECT 1.5 - 1 MINUTE CONTACT TIMES