Pro-Tect UV Systems

Pro-Tect UV Systems: Affordable, Practical Solutions
Pro-Tect UV Systems feature durable, non-corrosive schedule 80 PVC reaction chambers. The schedule 80 PVC is more robust when compared to HDPE or polypropylene models and offers significant cost reduction when compared to 316 Stainless Steel. Pro-Tect UV systems are rated for operating pressures of up to 150 PSI*. The "L" shaped design used allows for proper hydraulic mixing inside the UV reacation chamber and optimizes the UV dose.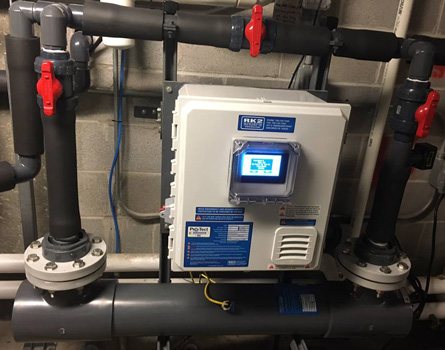 AUH44D6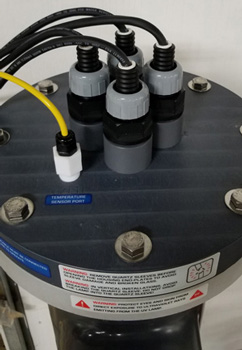 Single End Lamp and Sleeve Access
Pro-Tect UV systems utilize a single end lamp and quartz sleeve access that simplify maintenance and reduce over all cost associated with operating a UV system. Changing lamps and sleeves has never been easier. A quick "no tool needed" design allows for easy removal of lamp cables with without the risk of twisting cables and causing damage. A special fitting allows the lamp cable to remain in place while the lamp nut is spun. A simple o-ring seal allows for easy changing of sleeves without the risk of breaking by removing thick walled rubber gaskets that tend to become brittle and stick to the sleeve. With Pro-Tect UV systems you'll no longer need to worry about proper lamp placement. The distance from the cable crimp to the lamp connector are pre-set at the factory, allowing for proper placement of the lamp everytime.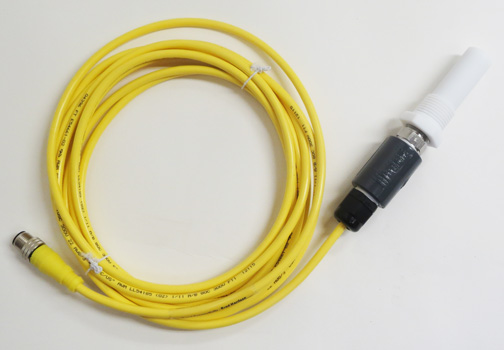 All Pro-Tect UV systems feature an over temperature safety cutoff. What makes Pro-Tects' temperature sensor different is that unlike other models with sensors in the main portion of the body or vessel, our sensor is located in the lamp bulkhead or endplate. Locating the sensor in the endplate protects critical sealing components from overheating and failing due to the close proximity of the lamp filament (hottest part of the system).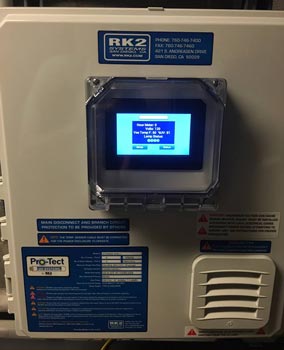 AUH44D6-HMI
Pro-Tect UV HMI Controllers are manufactured using noncorrosive thermoplastic or fiberglass enclosures. Our HMI contollers have a NEMA Type 12 rating and are 508A UL listed. Pro-Tect's HMI control packages are user friendly and feature a color touch screen display showing basic operating status of the UV system and alerts users to any problems related to the UV system. Both the standard HMI and Pro Series packages include the over tempature safeycutoff as standard options. Upgrading to the optional HMI Pro series control package expands the capabilities of your Pro-Tect UV system. The HMI Pro series offers a larger color touch screen display and more advanced monitoring and control options.
Pro Tect UV Features
Corrosion Proof Schedule80 PVC-stronger and can handle higher pressures when compared to HDPE and polypropylene reactors.
Single end lamp and sleeve access makes for easy maintenance.
Correct, repeatable lamp placement 100% of the time.
Standard over temperature safety cutoff switch-turns the lamps off when water reaches 120F, preventing damage from overheating.
Temperature sensor location-located in lamp endplate, the hottest part of uv reaction chamber.
American made Low Pressure Amalgam (ALH) and High Output (HLH) UV lamps. These lamps are designed for 12,000 hours of continuoususe and are 80% efficient after 12,000 hours.
Electric Ballasts are matched to the performance of the required lamp for optimal UV-C output and longest useful lamp life.
Controller Options
Standard HMI Incudes:
3.5" x 3.5" Color touch screen display
Lamp Monitoring: Status and alarm
Input voltage monitor and alarm
Reactor water temperature monitor, alarm, and safety cutoff
Power supply enclosure temperature monitor and alarm
Alarm output relay
Pro Series Package Includes:
4.3" x 4.3" or 5" x 5" Color touch screen display (Depending on number of lamps)
Lamp Monitoring: Status and alarm
Input voltage monitor and alarm
Reactor water temperature monitor, alarm, and safety cutoff
Power supply enclosure temperature monitor and alarm
Alarm output relay ? UV Intensity monitor with UV Sensor
Remote On/Off capability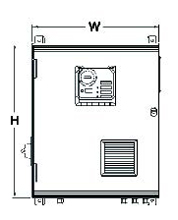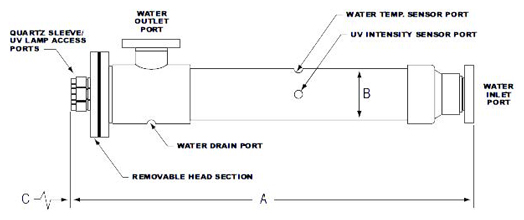 ALH UV Systems Chart
Model
Lamps#/
Watts
Input Watts
UVC Output
UV Vessel Dimensions AxBxC
Inlet/Outlet Sizes
Max PSI/BAR
Power Supply Dimensions HxWxD
Max Amps @
120/230 VAC
Control Options
30 mJ/cm2
GPM/LPM
180 mJcm2
GPM/LPM
ALH41D6-XXX
1/130
130
40
56" x 6" x 47"
2", 3", 4"
150/10.3
16" x 14" x 8.4"
2.1/1.0
Basic HMI and HMI Pro Series
66/255
11/42
ALH42D6-XXX
2/130
260
80
56" x 6" x 47"
2", 3", 4"
150/10.3
16" x 14" x 8.4"
3.9/2.0
Basic HMI and HMI Pro Series
112/434
18/72
ALH43D6-XXX
3/130
390
120
56" x 6" x 47"
2", 3", 4"
150/10.3
16" x 14" x 8.4"
5.8/2.9
Basic HMI and HMI Pro Series
161/624
27/104
ALH43D8-XXX
3/130
390
120
62" x 8" x 51"
3", 4", 6"
150/10.3
16" x 14" x 8.4"
5.8/2.9
Basic HMI and HMI Pro Series
228/883
38/147
ALH44D8-XXX
4/130
520
160
62" x 8" x 51"
3", 4", 6"
150/10.3
20.2" x 16.3" x 8.4"
7.5/3.7
Basic HMI and HMI Pro Series
296/1,147
49/191
ALH45D8-XXX
5/130
650
200
62" x 8" x 51"
3", 4", 6"
150/10.3
24.6" x 20.2" x 10.6"
9.4/4.7
Basic HMI and HMI Pro Series
346/1,341
58/223
ALH46D10-XXX
6/130
780
240
64" x 10" x 51"
4", 6", 8"
120/8.3
24.6" x 20.2" x 10.6"
11.2/5.6
Basic HMI and HMI Pro Series
480/1,860
80/310
ALH47D10-XXX
7/130
910
280
64" x 10" x 51"
4", 6", 8"
120/8.3
24.6" x 20.2" x 10.6"
13.3/6.5
Basic HMI and HMI Pro Series
564/2,185
94/364
ALH47D12-XXX
7/130
910
280
69" x 12" x 51"
6", 8"
90/6.2
24.6" x 20.2" x 10.6"
13.3/6.6
Basic HMI and HMI Pro Series
648/2,511
108/418
ALH48D12-XXX
8/130
1,040
320
69" x 12" x 51"
6", 8"
90/6.2
30.5" x 24.1" x 12.6"
15.0/7.5
Basic HMI and HMI Pro Series
763/2,956
127/493
ALH61D6-XXX
1/320
320
98
85" x 6" x 76"
2", 3", 4"
150/10.3
24.6" x 20.2" x 10.6"
3.2/1.6
Basic HMI and HMI Pro Series
165/639
27/106
ALH62D6-XXX
2/320
640
196
85" x 6" x 76"
2", 3", 4"
150/10.3
24.6" x 20.2" x 10.6"
6.0/3.0
Basic HMI and HMI Pro Series
276/1,070
46/178
ALH63D6-XXX
3/320
960
294
85" x 6" x 76"
2", 3", 4"
150/10.3
24.6" x 20.2" x 10.6"
9.0/4.5
Basic HMI and HMI Pro Series
392/1,519
65/253
ALH63D8-XXX
3/320
960
294
86" x 8" x 76"
3", 4", 6"
150/10.3
24.6" x 20.2" x 10.6"
9.0/4.6
Basic HMI and HMI Pro Series
587/2,275
98/379
ALH64D8-XXX
4/320
1,280
392
86" x 8" x 76"
3", 4", 6"
150/10.3
24.6" x 20.2" x 10.6"
12.0/6.1
Basic HMI and HMI Pro Series
744/2,883
124/480
ALH65D8-XXX
5/320
1,600
490
86" x 8" x 76"
3", 4", 6"
150/10.3
24.6" x 20.2" x 10.6"
15.0/7.5
Basic HMI and HMI Pro Series
848/3,286
141/548
ALH66D10-XXX
6/320
1,920
588
88" x 10" x 76"
4", 6", 8"
120/8.3
30.5" x 24.1" x 12.6"
18.0/9.1
Basic HMI and HMI Pro Series
1,198/4,642
200/773
ALH67D10-XXX
7/320
2,240
686
88" x 10" x 76"
4", 6", 8"
120/8.3
30.5" x 24.1" x 12.6"
230 VAC 11.0
Basic HMI and HMI Pro Series
1,405/5,442
234/907

ALH67D12-XXX

7/320
2,240
686
90" x 12" x 76"
6", 8"
90/6.2
30.5" x 24.1" x 12.6"
230 VAC 11.0
Basic HMI and HMI Pro Series
1,611/6,243
268/1,040
ALH68D12-XXX
8/320
2,560
784
90" x 12" x 76"
6", 8"
90/6.2
30.5" x 24.1" x 12.6"
230 VAC 13.0
Basic HMI and HMI Pro Series
1,839/7,126
306/1,188
Model
Lamps#/
Watts
Input Watts
UVC Output
UV Vessel Dimensions AxBxC
Inlet/Outlet Sizes
Max PSI/BAR
Power Supply Dimensions HxWxD
Max Amps @
120/230 VAC
Control Options
30 mJ/cm2
GPM/LPM
180 mJcm2
GPM/LPM

HLH32D6-XXX

2/80
160
40
56" x 6" x 47"
2", 3", 4"
150/10.3
14" x 12" x 8.4"
3/1.5
Basic HMI and HMI Pro Series
81/314
13/52
HLH33D6-XXX
3/80
240
80
56" x 6" x 47"
2", 3", 4"
150/10.3
14" x 12" x 8.4"
4.0/2.0
Basic HMI and HMI Pro Series
119/461
20/77
HLH34D6-XXX
4/80
320
120
56" x 6" x 47"
2", 3", 4"
150/10.3
16" x 14" x 8.4"
5.0/2.5
Basic HMI and HMI Pro Series
155/600
26/100
HLH52D6-XXX
2/150
300
160
85" x 6" x 76"
2", 3", 4"
150/10.3
14" x 12" x 8.4"
3.75/1.8
Basic HMI and HMI Pro Series
174/675
29/113
HLH53D6-XXX
3/150
450
200
85" x 6" x 76"
2", 3", 4"
150/10.3
14" x 12" x 8.4"
5.5/2.7
Basic HMI and HMI Pro Series
250/969
41/162
HLH54D6-XXX
4/150
600
240
85" x 6" x 76"
2", 3", 4"
150/10.3
16" x 14" x 8.4"
7.5/3.7
Basic HMI and HMI Pro Series
331/1283
55/214