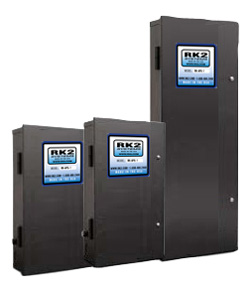 RK-APG-1,RK-APG-2,RK-APG-3
APG Series Ozone Generators
Standard Features
Featuring Advanced Plasma Gap technology, all APG systems are compatible with any operating voltage and do not require desiccant air dryers to properly function. Our APG Series ozone generators offer improved water quality and clarity while reducing the amount of chlorine and chemicals used within your display. Units oxidize up to 99.99% of harmful microorganisms, while eliminating oils, lotions and other contaminants from your water. Each APG System is designed to offer customers a high output / low energy cost solution with a simple and inexpensive cost of ownership. Use of our systems will further aid in the reduction of wear and tear on additional life support equipment used within your life support system.
All APG Series units offer the following:
Auto Voltage Sensing
APG Ozone Technology
95-250V, 50/60Hz
Wall Mounted
+ 5 Years Ozone Cell Life
NSF/UL Listed
1 Year Warranty
RK-APG-1- and RK-APG-2: 7.8"W x 14.1"H x 3.2"D
RK-APG-3: 7.8"W x 21.3"H x 3.2"D
How Ozone and Protein Fractionation Works Together
Ozone Injection enhances the fractionation process in a number of ways. Ozone oxidizes various pathogens, from bacteria to viruses. Ozone is extremely effective on organic water tints creating crystal clear water. Ozone also breaks down the structure of larger organic molecules, which facilitates their removal by fractionation. Being a three-part oxygen molecule, ozone dramatically increases oxygen concentration. Ozone in doses appropriate for aquaculture is very safe.
The fractionation and ozone combination is extremely effective in a variety of applications. Grow out tanks and aquaria displays with heavy bio-loads become remarkably cleaner. Clean Systems, such as larval rearing or holding tanks can become crystal clear. Protein fractionation with ozone is excellent for systems with heavy mucous concentrations such as closed or semi open finfish and shellfish holding systems. Other applications include purging systems, grow out systems, effluent treatment as well as influent water treatment for use within partial and full flow thru systems.
The protein fractionation process increases water clarity and oxygen concentration, and also destroys and removes pathogens. Consequently, appetite, stocking densities, feed and growth rates are all enhanced and animal health improved.
Used within aquaculture, live seafood holding as well as most public aquariums worldwide, protein fractionators are an essential component within any aquatic life support filtration system. Protein fractionation is effective in seawater, freshwater as well as brackish water systems, within partial or full flow applications. Individual models are available with processing flow rates from 3 to 2000 gallons per minute. For larger flow rate applications, our protein fractionators can be incorporated into any modular system design, thus allowing us to process any system volume where protein fractionation is required.
Model
Recommended Air Flow Rates
Max Power Consumption
@ 120VAC 60 Hz./
@ 220 VAC 50 Hz.
Dimensions LHW (inches)
Weight
Recommended Skimmer Models
Manuals
RK-APG-1
12 SCFH/5 LPM
.1 Amps @ 120 VAC 60 Hz.
.05 Amps @ 240 VAC 50 Hz.
8" x 14.3" x 3.2"
10 LBS./4.5 KGS
X-Flo 6-2.5/X-Flo 6-3.5
RK-APG-2
12 SCFH/5 LPM
.2 Amps @ 120 VAC 60 Hz.
.1 Amps @ 240 VAC 50 Hz.
8" x 14.3" x 3.2"
10 LBS/4.5 KGS
RK10AC
RK-APG-3
15 SCFH/7 LPM
.31 Amps @ 120 VAC 60 Hz.
.15 Amps @ 240 VAC 50 Hz.
8" x 21.5" x 3.2"
15 LBS/6.8 KGS
RK25PE/RK50PE
* All models are avialable with ORP Controller and Probe