3x2-6 SYSTEM PUMPS
Non Metallic - High flow pump solutions - Built to last!
Our vision of creating cost effective energy efficient solutions is unwavering - in partnering with MDM, Inc, we are proud to introduce our 3x2-6 System Pump series. The proven B73lean® design of the 3x2-6 System Pump is lowering total cost of ownership from basic applications to more technologically advanced facilities around the globe. The 3x2-6 System Pump consists of a non-metallic, end-suction centrifugal pump line is designed and engineered to provide highly efficient pumping solutions.
Features
Bulk Compression Molded thermosetting polymers provides our 3x2-6 System Pumps with a set of material properties that are better than metallic or thermoplastic components, including equal or higher strengths and stiffness, higher dimensional stability, and compatibility with many aggressive chemistries.
Performance
The 3x2-6 System Pump allows for Wire-to-water efficiencies in the high seventies [78%]. Up to 2-Pole (3450) speeds, the innovative internal pump passages provide optimized balance of flow and pressure. Operation in parallel and series configurations give the end user low-cost solutions for redundancy with massive performance in a small package.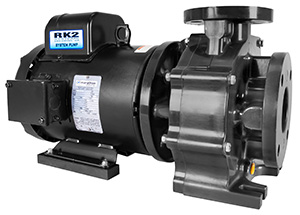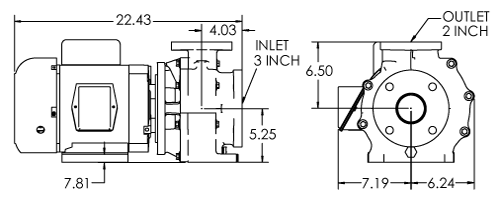 Best Efficiency Point Operation
146 GPM Flow Rate
36.4 FT Head Pressure
75.8% Peak E. cie
FLOW
GPM
SPEED
RPM
HEAD
FT
EFF.
%
POWER
HP
NPSHr
FT
253
1750
12.1
35.9
2.09
11.6
211
1750
24.6
64
2.04
8.71
169
1750
32.8
73.8
1.89
7.51
127
1750
38.4
74.2
1.65
7.13
84.4
1750
41.8
64.9
1.36
6.16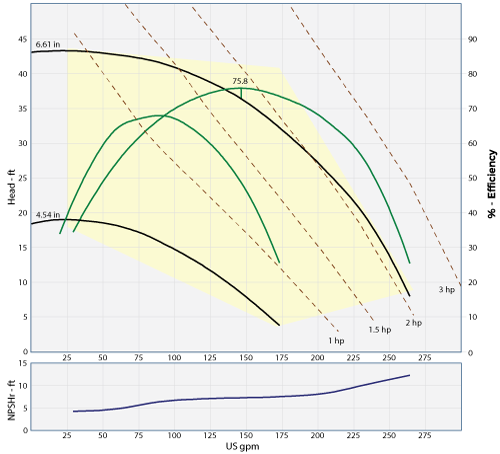 DATA POINT
Flow:
146 gpm
Head:
36.4 ft
Efficiency:
75.8%
Power:
1.77 hp
NPSHr:
7.29 ft
DESIGN CURVE
Shutoff head:
43.1 ft
Shutoff dP:
18.7 psi
Min Flow:
50 gpm
BEP:
75.8% @ 146 gpm
NOL Power:
2.09 hp @ 234 gpm
MAX CURVE
Max Power:
2.09 hp @ 234 gpm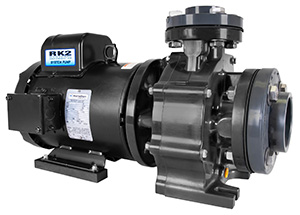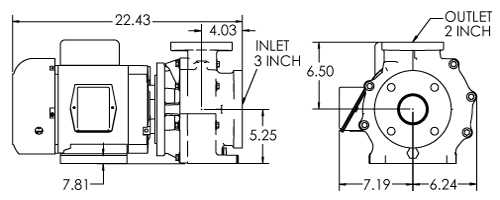 Best Efficiency Point Operation
146 GPM Flow Rate
36.4 FT Head Pressure
75.8% Peak E. ciency
FLOW
GPM
SPEED
RPM
HEAD
FT
EFF.
%
POWER
HP
NPSHr
FT
253
1750
12.1
35.9
2.09
11.6
211
1750
24.6
64
2.04
8.71
169
1750
32.8
73.8
1.89
7.51
127
1750
38.4
74.2
1.65
7.13
84.4
1750
41.8
64.9
1.36
6.16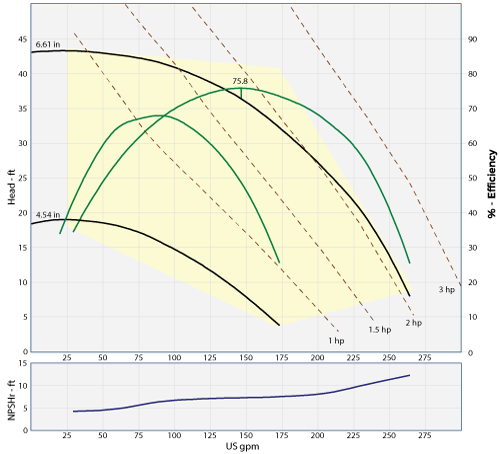 DATA POINT
Flow:
146 gpm
Head:
36.4 ft
Efficiency:
75.8%
Power:
1.77 hp
NPSHr:
7.29 ft
DESIGN CURVE
Shutoff head:
43.1 ft
Shutoff dP:
18.7 psi
Min Flow:
50 gpm
BEP:
75.8% @ 146 gpm
NOL Power:
2.09 hp @ 234 gpm
MAX CURVE
Max Power:
0.184 hp @ 31.4 gpm